Upgrading your Full Tilt software - Introducing your Stars Account
On May 17, 2016, we migrated the Full Tilt brand to the PokerStars software, giving all Full Tilt players access to more games and promotions and bigger prize pools than ever before.
As part of the migration process, your Full Tilt player account is becoming a Stars Account. This enables you to have a single account for playing poker and casino games on Full Tilt and PokerStars, as well as BetStars (as applicable in your jurisdiction), with a shared wallet, a single user ID (now known as your 'Stars ID') and password.
In order to keep playing on Full Tilt, you will need to upgrade your software and migrate your account. The process is simple and fast - see below for everything you need to know.
How to upgrade your Full Tilt software
1. Open your Full Tilt desktop client or mobile app, and log in using your usual Full Tilt User ID (or registered email address) and password. As you can see in the picture below, your account is now known as a Stars Account. (Please note, the pictures below refer to the desktop client, but the process can also be completed using the Full Tilt mobile app).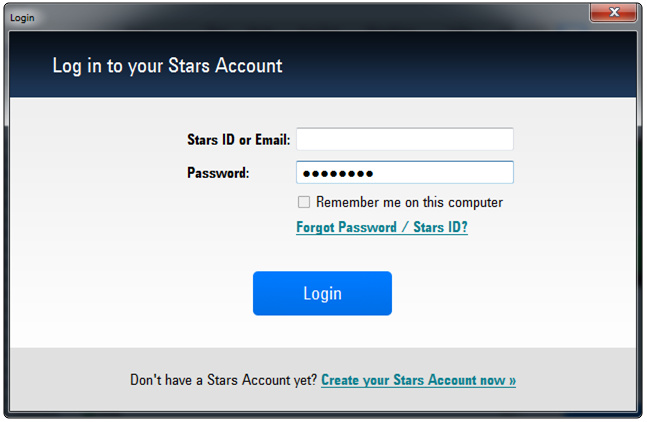 2. After logging in, click the 'Start' button to begin the upgrade process. You'll see a table detailing the cash and play money balance of your Full Tilt account, to be moved to your Stars Account.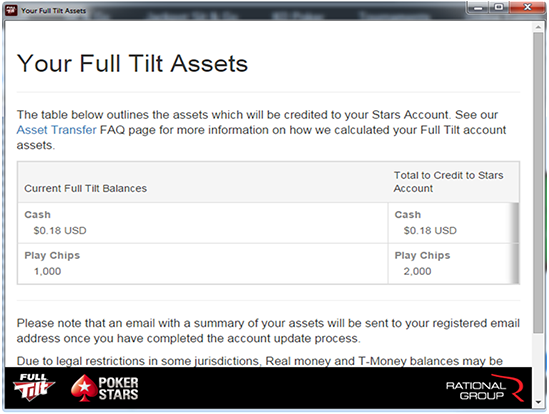 Your play chip balance will be doubled, while your Full Tilt Points, Coins, tournament tickets and other assets will be converted and credited to your Stars Account immediately. Click here for further details on how your assets are transferred.
3. If you already have an account with PokerStars as well as Full Tilt, you will be prompted to enter your PokerStars password. The details from your PokerStars account will be used as the basis for your new Stars Account, with your PokerStars User ID becoming your Stars ID.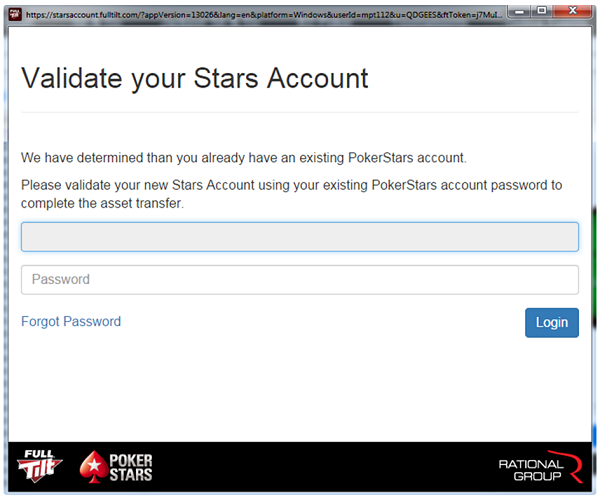 If you have not previously had a PokerStars account, your Full Tilt User ID will become your Stars ID (if available).
4. Congratulations, you've now upgraded your software! If you have completed the process via mobile, you will be prompted to download the new Full Tilt mobile app.
Please note, you will be required to add your bank details to your new Stars Account before making any deposits or cashout requests.
If you have any queries about the migration process, please refer to our Software Update FAQ.
Please contact Support if you encounter any problems.